Ask any commercial roofing contractor what their preferred roofing substrate it and you're bound to get consistently high marks for TPO Roofing.  Otherwise known as Thermoplastic polyolefin, TPO is a single ply type of roofing substrate and is considered the "new kid" to the market even though it's been widely available for the last 20 years.  Recently, as more and more companies are going green, TPO has been gaining market share thanks to its reputation as a sun-reflecting roofing style.
Here at TRI Roofing we've noticed a significant upward trend in the number of calls for TPO in the last 5 years from business and homes with low pitch or flat roofs.  Thanks in part not only to its green reputation, but also to its good relative value.
In this article, we'll take a look at where TPO roofing is commonly installed, its benefits and drawbacks, and find out exactly why they are getting so popular with contractors and customers.
TPO is Cost Effective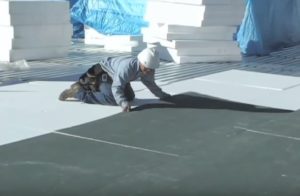 Upon initial estimation, TPO may turn folks off due to the high relative material costs.   Depending on the material specification, you can estimate the material costs will run 15% – 25% more than EPDM or PVC.  However, on a total net cost level, which includes installation, TPO roofing costs are actually in line or just *slightly* higher than PVC or EPDM rubber roofing alternatives.
Since the TPO compound is much lighter, installation costs are relatively cheap, since it's easier to manage up and around the roof than other roll type applications.  Also, instead of having to apply tar like in a Bitumen style roof, which can be extremely messy, TPO rolls can simply be draped over the roof and fastened, providing a quick and easy solution to adding roofing material.
Also, the seaming process is much easier compared with EPDM or PVC.  While there are a number of ways of seaming the ply's including hand-held welders and tape, we recommend using a wheeled robotic welder which applies just the right amount of heat, to securely and quickly install a leak free roof.
Durable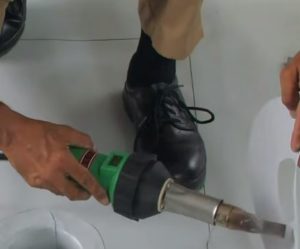 TPO roofing can last about 35 years on average and up to 45 to 50 years if properly maintained. The TPO chemical make-up was patent designed with roofing in mind and generally protect than competing roofing system against UV degradation, acid rain, ozone and chemical exposure.   Additionally TPO holds up comparable again that delivered by the sun, even in the hottest of temperatures.  Likewise, as mentioned above, the seams are exceptionally strong and maintain their integrity as long as the roof itself, providing the joint seams have been applied correctly.
Earth Friendly
Available now in almost any color under the sun (pun intended), you'll usually see most business opt for Black, White and Gray.   For businesses opting for white in hotter climates, you'll get yourself the highest energy rating from the US EPA Energy Star and LEEDS.  This is due not only to the fact that white COLOR reflects the heat better, but also because the reflective sheen of TPO magnifies this effect.  Moreover, the makeup of TPO has a high percentage of recycled product, much like EPDM rubber.
Conclusion
If you've got a low pitch or flat roof, we recommend giving TPO a look. It is lightweight, affordable and can be installed in just hours, providing years of worry free protection and durability.  And because of its terrific reputation for energy efficiency, it's fast becoming the material of choice for many new commercial contracts.
Looking for flat roof or commercial roofing installation in the Triangle?  Give T-R-I Roofing a "tri".  We've got a dedicated and experience crew of roofer and a great support staff to help walk you through all the viable options to best fit your needs.  Give us a call today at (919) 296-0017 and one of our trained office staff will be happy to help!