Commonly known as the "rubber roof", EPDM roofing is a popular choice for flat topped homes and businesses alike thanks in large part to its perception of easy installation and relatively low material cost.  Consisting of two main distillates of natural gas and oil, ethylene and propylene, EPDM has can easily withstand extreme temperature fluctuations and is resistant to moisture.
While many customers are drawn to these qualities, and of having a roof installed quickly and easily, customers should be aware that there are some disadvantages to using EPDM.  Today we'll explore the pluses and minuses of EPDM and give recommendations on the best installation techniques in order to get the most life out of your rubber roof.
Pros and Cons of EPDM
EPDM is relatively new on the scene as a substrate for use of a low pitch roof.  As with any product it has advantages and disadvantages to other low slop roof alternatives including Bitumen and PVC:
Benefits
If installed correctly a EPDM roof can last 25 – 45 years.
Resistant to chemicals, UV rays from sunlight
If a leak is found, the repair is easy and inexpensive.  Many owners repair themselves rather than hiring out
Fire resistant
Total cost including installation is relatively inexpensive
EPDM stays flexible even in the coldest weather and can adapt to a settling structure
Made of recycled materials
Disadvantages
Can be difficult to locate the source of a leak
More seams = more potential leaks.   More seams will be required is you have an abundance of outcroppings like multiple HVAC units, chimneys, and pipes
Rubber is a tough substrate but not impervious to a falling tree branch.  If you're structure is covered by trees, you may consider an alternative like a Built Up Roof (BUR) option
White colored option costs significantly more than Bitumen as an energy efficient option in hotter climates.
Geese LOVE to peck at EPDM roofing.  Make sure you have a plan to keep these pesky birds away.
Installing a Rubber Roof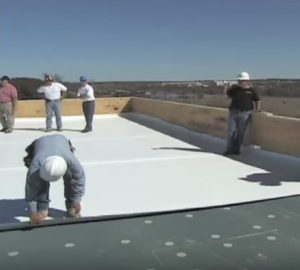 For an experienced roofer, easy installation is where EPDM shines, with each manufacturer looking to one up the other in this category for an advantage.  Regardless of the manufacturer, the general steps nevertheless remain the same:  (1) Planning (2) Preparation, (3) Laying the membranes / rolls, (4) edging and (5) splicing.
Before You Begin
Before starting the project make sure you understand the requirements for the job.  Is there a high possibility that the roof will be punctured from covering tree?  You may want to consider a thicker membrane.  Is energy efficiency a requirement?  Again, you may consider a thicker membrane, but one in white that can reflect sunlight.  Once you have a good idea of the requirements, draw the layout of the roof and to get a good idea of the square footage and the size rolls and materials that you'll need.  Standard EPDM comes in black in widths of 2', 5' and 10' while the thicknesses are typically available in 45mm, 60mm and 90mm.  Alternatives to these standards are available (including 50' widths), but generally cost more money.   One thing to keep in mind when planning:  thicker rolls are much more difficult to install, so adjust your schedule accordingly.
1. Preparation

Surface preparation is relatively easy.  Make sure the substrate is clean and dry and don't plan on installing if the weatherman is calling for rain.  Temperatures ideally should be above 40 degrees F; however the improved material used nowadays remains pliable at much cooler temperatures.  As a result this requirement is nearly obsolete as we've done jobs in 15 F degree weather.  Again check with the manufacturing specs to make sure.

2. Laying It Out

Depending on the manufacturer, the rubber membrane (layers) can be fastened, laid loosely or adhered to the roof surface using a bonding agent.  Most require an overlap of the adjoining layer of about 3".  Once the layers are aligned, they should be fastened to the surface according to the manufacturer's specifications.    Normally these base sheets should be secured to the roof using round metal capped nails at a good distance from the seams.  We recommend 2 to 3 inches back from the seam.

3. Edging

Typically drip edges are required to secure the rolls to the perimeter of the roof.  These should be installed to the eves and drakes using roofing nails in a staggered pattern.

4. Seaming

Once the base sheets have been laid and properly edged, it's time to seal the seams and nail holes.  It depends on the manufacture, but most recommend seam tape splicing on the bottom edge of the adjoining layer, while others recommend a liquid adhesive.

Now that the base sheets have been integrated, it's time to seal the joint.  With an appropriate sized trowel, seal the drip edges and nail roles to the base membrane using flashing cement.
Repairing EPDM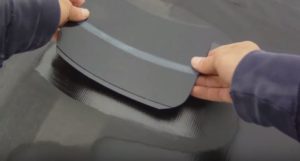 If you've encountered a leak on your EPDM roof, first you'll need to locate the leak.  The good thing with locating a leak a flat roof:  when you've located the leak on the inside the failure point can't be too far away.  This is unlike a pitched roof where the water can travel a good distance down the joists or plywood from the offending leak point.  Concentrate of the seams near the leak point and press any suspected seams to see if water leaks out.  If this seam check doesn't track out, then look for holes in the membrane itself.  These may be a little easier to identify visually. (PICTURE)
Once you've identified the leak, the repair is easy.  We recommend using a patch kit like this.  Before applying a patch kit, make sure that the hole is dry and clean.  Use a roller to ensure than any patch is perfectly flat again the roof surface.
Need a EPDM Roofing Contractor?
Thanks for reading our article.  While we don't think EPDM is for everyone, we do think it's a good option for many project involving low pitched roofs and we sincerely hope it helps!
If you're considering installation of a rubber EPDM roof, or need roof repair services consider TRI Roofing.  Located in Durham, North Carolina TRI is a fully licensed home improvement and commercial roofer contractor and is dedicated to serving the Triangle's roofing needs.

We provide excellent service, and the absolute best workmanship and products.   For our customers that means the best price, the best service, and the best quality to meet their individual and unique needs.  Give us a call today at (919) 296-0017.