Once considered a relic, contained to the Southern region of the United States and South Americas, the standing seam metal roof has witnessed an amazing quadrupling in demand over the past 25 years.  Metal roofing's luster is due in large part to its winning combination of attractive looks, durability and ease of maintenance.  Additionally metal roofs, while comparatively light, are extremely rigid.  If properly installed a metal roof can not only keep your home dry, it can help to enhance the life of your home's structure.
In this article we'll explore the diverse types of metal roofs available for residential applications and we'll share tips on how to choose the best metal roofing contractors to install the metal roof of your dreams.
Common Types of Metal Roofing
Metal roofing panels are made by a number of manufacturers worldwide in a multitude of forms and alloys.  These different varieties offer different combinations of longevity, flexibility, and strength that will compliment any residential or commercial property.  In general there are two basic types of metal roofing options out there, each with a wide array of forms and colors to choose from.
Standing Seam Metal Roof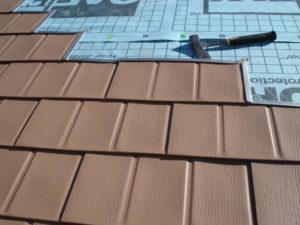 Also known as "Vertical Seam", a standing seam metal roof is what one typically thinks of when "metal roof" is mentioned.   Its classic great looks and ease of installation are helping make the standing seam metal roof the fastest growing option among commercial and residential contractors.  Homes in mountainous areas have used this style roof for years since this snow can easily slide off the surface.
A quality metal roof installation is designed to be impervious to the rigors of inclement weather with the vertical panels constructed of different weather resistant materials that include alloys of aluminum, zinc, copper, and terne (tin).  These thru-fastened metal roofing panels interlock through ribs that run from the eave to the ridges of the roof and have gasketed screws that go through the roof to the decking substrate.
Modular Press-Formed Panels 
These are painted interlocking panels are growing in popularity among many homeowners as they can be easily molded to look like shingles, tiles, or wood shakes.  Like Standing Seam, modular metal roofing installation is relatively easy as the roof's metal panels are designed with hidden fastener brackets and thus have outstanding wind lift-up resistance.
More and more we've been seeing manufactures starting to use a grip coating process whereby the press-formed panels are sprayed with an acrylic paint and embedded stone granules on the upper surface.  This allows for a safer experience if on-the-roof maintenance is required.
Metal Roofing Maintenance Tips
If properly installed and well-maintained and, a metal roof can last 40 to 50 years or more.   Below are some maintenance tips to help ensure that your metal roofing systems remain in good shape.
1. Regular Cleaning

Cleaning a Metal Roof

One of the metal roofing maintenance undertakings is regularly cleaning your roofing. Things such as pollen, dirt, and debris can destroy both the appearance and function of your metal roofing. As such, you should sweep, blow or powerwash the debris that collects on your roof at least once every year.

Give more attention to the cleaning valleys where most of the dirt accumulates. Although things like accumulated leaves might not appear to be an issue, the fact is that they can prevent rain water from properly draining off the roof. This leads to faster tear and wear of your metal roof.

2. Use of Detergent for Stubborn Stains

To wash your roof to a spotless clean, use one cup of household ammonia mixed with around five gallons of water. You may need a stronger cleaning agent if you notice stubborn areas covered in mold or mildew. In this case, you may mix one cup of household bleach with about five gallons of water, plus another cup of a softening agent such as soap. You should however note that metal roofs are dangerously slippery when wet and you should hire a professional to clean the roof for you.

3. Regular Repair

Although very durable, a seam metal roof is not impervious to extreme weather.  Strong storms may loosen or break fasteners, accelerating the need for thorough repair. In the event of a major repair, replacing panels should be of the original metal or one that is compatible with the old metal.  This is due to the fact that corrosion reactions may be hastened over time when incompatible metals are used together.

4. Occasional Repainting

To shield your roof from severe weather and rust, keep you paint touched up. You should also be careful not to scratch the paint on your roof. If you accidentally scratch your roof while cleaning, you can use a tape and sealant combination like Liquid Rubber MetalSafe or enlist the help of competent roofing professional if you feel uncomfortable getting on your roof.  Ask them to advice you on the best sealant and paint to use for repair.
Tips for Choosing Metal Roofing Contractors
Choosing the right contractor to install your metal roof is at least as important as the material you choose.  While the Installation of a metal roof panels is easier compared to other roof designs, any shortcuts can cost you dearly down the road.   Choose your contractor in confidence with our tips below:
1. Experience

Hire a contractor who has been in the industry for a while.  To be sure that the contractor you hire is indeed experienced, ask them to table the list of people they have worked for before. If possible, contact them and ask how the roofer handled their past projects.

2. Licensing/Registration

You should be careful to deal with metal roofing companies that are licensed, insured and registered in your state. Since most professional bodies only register and license qualified professionals, this is a sure way to work with qualified individuals who uphold the recommended professional ethics.  You must never settle for verbal assurances that this and that metal roof company is licensed or registered. Instead, you should insist until you are shown the documents in question.

3. Reputation

In our industry, reputation is king.  It's the lifeblood of our business and

There are some roofing specialists who have thrown their integrity to the dogs. You should be careful not to deal with such professionals when installing/repairing your metal roof. To avoid dealing with dishonest roofing contractors, you should rely on referrals from colleagues, friends, and relatives. You can also make use of the internet as you comb the market for the most dependable roofers. Since most roofing companies have websites, you should move from one website to another as you compare the services offered by different specialists. Remember to look at the reviews posted by previous clients.

4. Cost

Finally, you should consider the metal roofing prices. Although the cheapest is not necessarily the best, you should be careful not to be fleeced by unscrupulous metal roofing installation contractors. The best way to get the most favorable deals is to get quotes from different contractors. We recommend at least three.

NOTE:  the type of metal roofing you want done will also determine how much you pay. For instance, steel roofing prices are higher than tin roofing costs. Make sure that the metal roof cost you choose falls within your budget.  You however should be careful to avoid prioritizing cost over the quality of the roofing services offered.
Looking for a Metal Roofing Installer?
If you're in the market for a new Asphalt Shingle, Metal or Slate Roof for your home, there are more reasons than ever to go metal.  If you're looking for a trusted roofing company, look no further than TRI Roofing.  Located in Durham, North Carolina TRI is a fully licensed home improvement and commercial roofer contractor and is dedicated to serving the Triangle's roofing needs.
We provide excellent service, and the absolute best workmanship and products.   For our customers that means the best price, the best service, and the best quality to meet their individual and unique needs.  Give us a call today at (919) 296-0017.