A slate roof is the quintessence material used by homeowners when cost is no object.  Used as the preferred method in antiquity, it's easy to see why slate is the go to choice for long-term use. If installed correctly, well designed slate roofing can last 150 years or more!   It doesn't burn or corrode over time, it's easy to cut and if installed correctly, a slate roof can look absolutely stunning.  A good example of slate stone's extreme durability can be found in older cemeteries prior to 1800.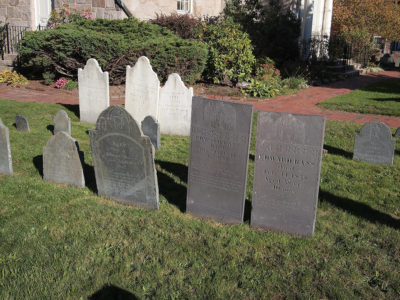 Take a look around to locate the blue-gray headstones made with slate.  Despite being subjected to rain, wind and time over centuries, the inscriptions and the original shape of the slate are generally still very much intact, while the inscriptions on many newer headstones made of limestone or sandstone are hardly discernible.
Slate Costs
It stands to reason that a slate roof will cost much more than your standard residential roof.  Where architectural shingles cost between $80 and $100 per square (100 square feet), the slate tiles themselves can run between $300 and $650 per square.  The wide cost disparity is due to the wide range of slate stone quality.  The finest quality of slate is mined deep below the earth' surface far away from the elements – it's heavy, hard, uniform in appearance, and can take a beating.  Lesser quality slate on the other hand, is found on or near the surface where it has been subjected to time and weather.  It chips easier, contains flaws and is less dense making it a less attractive material for roofing.
Slate is heavy, and in turn the installation is much more involved.  Before any installation can begin, you'll need to understand if your home's structure will support the weight of the slate.  If not, your roof structure will need to be re-engineered.  An experienced roofer and architect (yes both) can help you determine how to move forward.
In terms of time and labor, slate roofing costs can often equal or exceed the material costs with an average cost of $275 to $450 per square.  Additionally installation material can run between $60 – $90 per square, since the use of 16 oz. copper fasteners, nails and flashing is highly recommended over iron-based steel which will corrode, expand and damage the slate over time.
Synthetic Slate
For the best of both worlds in terms of price and quality, many homeowners nowadays are turning towards synthetic slate tiles.  At about a third of the price and a quarter of the weight, synthetic slate tiles are injection molded from oil-based recycles materials (think old tires) to reproduce the look of authentic slate.  They come in many different colors and styles and since the weight is so much less than the real deal, installation is much easier.  The best part is: many of these manufacturers offer 50 year guarantees and, if installed correctly can last 75 years or more.  Although it is difficult to discern from the ground, synthetic slate will not have the color and shape variations of its real slate counterpart.
Slate Roofing Maintenance
Because installation can be difficult you'll need a roofer with experience specifically in slate to address any roof repairs on a roof slate.   Cracked, broken, and missing slates should be addressed quickly with the intention of preventing water damage to their interior surfaces, structural ruin to the frames as well as roof sheathing and hastened deterioration of the roof. The roofer should first remove the damaged slate using a ripper to cut and pull out its nails. If roofers used steel cut nails instead of copper nails to lay the slate roof, then the ripping process might unintentionally damage or displace adjacent slates, which will need repair as well. When the slate roof repair requires the removal of many slates, the roofer should check the sheathing for projecting nails and rotted areas.
However, if at all a slate roof is beyond repair, replacement with a new slate can be a huge financial responsibility. One should use new wood boards having the same thickness and width as the damaged ones to replace them. One should not use pressure treated wood because it tends to shrink, hence making vinyl roofing slates to crack.
Looking for a qualified Roofing expert for your home or commercial roofing project?  Give Roofing TRI a try!  We service the Durham / Raleigh / Chapel Triangle and would be happy to talk to you about your specific needs.  We're happy to give out free advice too!  Call us today at (919) 296-0017.