Covering more than 80% of all homes in the United States, Asphalt Roof Shingles are far and away the most popular choice for residential roofs in the world.  And it's easy to see why.  Homeowners prefer the combination of to the cost, variety, easy maintenance and long life, while residential building contractors and handymen prefer it due to its ease of installation.
Not all shingles are created equal however, and just like any commercial material product, the quality and durability range to meet customers-specific demands.  In this page we will explore what every homeowner should know about asphalt shingles in order to make an informed decision on the best option for their roofing needs.
Asphalt Roofing Styles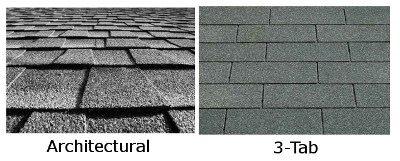 Asphalt roof shingles are made according to two very broad categories; 3-Tab and Architectural.  3-Tab is about as basic as you can get and is used primarily for a cost savings for newer construction or homeowner looking to save money on a new roof.  Installation and material costs are low with warranties for 3-tab shingles run between 20-30 years depending on the manufacturer.
Architectural shingles (aka laminate, or dimensional) in comparison are thicker, contain more protective asphalt and granules and usually look more attractive than 3-tab shingles.  Dimensional shingles can be manufactured to mimic the look of other more expensive options like slate or shake wood shingles and have longer warranties ranging from 35-45 years.  Since they are much thicker than 3-tab designs, installation costs are typically higher.
How are they made?
Asphalt shingles are produced at an astonishing rate.  In 2015, nearly 13 billion square feet of asphalt composed shingles were produced worldwide.  That's enough to cover the entire state of Illinois, its neighbor Indiana with plenty left over for Michigan!  Needless to say, shingles made of asphalt are produced en masse in large contiguous sheets and according to two classifications:  fiberglass-based and organic-based.
Fibergsass
A Fiber-glass based shingle starts as a ply of mat composed of glass fiber composite. This sheet is initially is coated with a hot layer of asphalt and oil coating.  While the asphalt mix is still heated, mineral particles or grit is applied for color, grip and added weather resistance.  Finally the shingle shape is cutout depending on the style specified by the manufacturer.
Pros

Easy Installation:  Fiberglass is lighter than organic based shingles and, as a result easier for contractors and homeowners to install.

Fire Resistant:  While the asphalt coating will burn, the fiberglass base is fireproof

Cost:  While the cost differences are not dramatic, fiberglass shingles do cost less, on average than organic

Cons

Durability:  Compared to organic based shingles, fiberglass based shingles, don't hold up as well over time since the fiberglass base does not adhere to the asphalt as well.  In cold climates, the fiberglass can become more brittle.
Organic-Based Shingles
Similar to fiberglass, organic based asphalt shingles start with a pliable layer of an organic based mixture of paper, wood, and processed cardboard.  Similar to fiberglass, this base is first coated with a thick layer of asphalt coating.  While the asphalt mix is still warm, small stone granules are applied for color, grip and added weather resistance.  The asphalt thickness is what really sets this apart from fiberglass.  Since asphalt is organically based, it adheres more readily to the organic element.  This thicker layer of asphalt is, in turn more waterproof and able to accept more grit for better durability.
Pros

Durability: Organic matter shingles last longer in the outdoor elements due to its thicker layer of protective asphalt and grit – this heavier layer keeps the shingles waterproof longer and help bond the overlapping shingles to protect your roof better.

Cold Weather:  Organic base shingles are able to hold up much better than fiberglass shingles in colder weather

Cons

Durability:  Listed both as a Pro and Con, organic shingles also have a tendency to warp as they age.  If any water penetrates into the organic base, the shingle will warp, therby creating gaps in your roof membrane.

Installation:   Heavier than fiberglass, these shingles are a bit more difficult to transport on your roof for installation.

Fire Resistance:  The organic base and thicker layer of asphalt results in a product that is more susceptible to flames.

Cost:  Organic mat shingles are slightly more costly than fiberglass mat.
Manufacturer Recommendations
While there are over a dozen or so shingle producers that have the production capabilities to meet large contractor demand, we generally stick to three:  GAF, Certainteed, and Owens Corning.  Their warranties are solid and their quality is consistent.  We've also had good long term results with smaller companies like PABCO with their premium shingles.  The warranty duration is what most consumers go by, and for the most part, these shingles last past their warranty date.  Since higher warranty periods equate to higher cost, just be sure to choose a warranty that's right for your needs.
While choosing the right manufacturer and warranty are important for a roof, most times any issues that arise are due to the installation.  We have had legitimate issues with the material from time to time, however it is the exception, not the rule.  In most cases roof repair jobs that we take are as a result of improper installation, that's why it's important to choose a reliable roofing company to work on your roof.
Give T-R-I a try today!
If you are looking for a qualified roofing expert for an asphalt, wood shakes or metal roof your home roofing project, why not give Roofing TRI a try!  We service the Durham, Raleigh, and Chapel Triangle and would be happy to talk to you about your specific needs.  We're happy to give out free advice too!  Call us today at (919) 296-0017.