If you've spent any time in the Raleigh-Durham area in summer, you know plenty well how hot and muggy it can get, and while it may get uncomfortable at times – just think of the temperature on the top of your charcoal-colored asphalt roof.  If you want to get an idea of how hot it can get up there, venture up into the attic area around 2:00 PM on a sunny summer day.  Temperatures here can exceed 160 degrees F at it's hottest, and these temperatures can easily leak into the living areas of your home, making your AC work harder and longer.
So if you're looking to save money on utility costs, it makes sense to look for ways to reduce the heat load in this area.  We've already touch upon proper attic ventilation in another post, but another method, which has been gaining momentum in recent years thanks to tax credits, is by installing or converting to a "cool roof".
If you've haven't heard the term before, in today's post we wanted to give our readers a brief explanation of what makes a cool roof, when you should consider one for your home, and how it can benefit not only your wallet but the environment too.
What It A Cool Roof?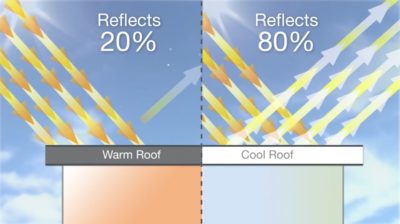 A cool roof is technically a roofing substrate that reflects more of the sun's energy than it absorbs.  Some of the better designs reflect up to 80%, while only absorbing the remaining energy as heat.  Naturally this helps to keep your home cooler during the warm summer months.  Usually constructed with reflective roof tiles, shingles or metal, these roofs are highly effective in areas that experience high temperatures during most of the months of the year. These types of roofs are not entirely new. Although they have been used for the past 20 years or so, cool roofs have become extremely popular in this day and age. They help reduce the cooling costs and keep homeowners comfortable at the same time. One draw back of a cool roof is that it can deflect some heat during the winter months. But they provide a greater cost saving in cooling your home during the hot and humid summer seasons.
Another benefit of a cool roof is the reduction in producing green house gas emissions. This is done by lowering the peak electricity demand in your home. In fact, electricity consumption accounts for more than 32% of carbon emissions such as sulfur dioxide, carbon dioxide, mercury, and nitrous oxide. When air pollution is decreased, the amount of smog also decreases accordingly. A cool roof keeps the indoor space of your home cool and comfortable at all times. It reduces the risk of stroke and asthma that are linked to the presence of smog. It improves the life expectancy of your roof since it absorbs less heat. As a roof absorbs heat, it becomes stressed and breaks down easily with time. This could lead to premature destruction of your roof. That is why you need to install a cool roof in your home to save money and enhance the lifespan of the roof.
Since, on average our area of North Carolina has many more warmer days that cold ones, the cooling benefit significantly outweighs the heat deflection in the winter.
Cool Roof Installation And Conversions
Deflective roofing material, like traditional designs can be easily be installed on any type of roof – whether you have a low-slope or flat roof. You can do it by applying a white or thick cool-colored coating over the current roof. For a steep-sloped roof, you need to install cool-colored shingles or tiles. These shingles are quite similar to traditional dark roof shingles – but they contain pigments that reflect solar energy.
A cool roof costs more that the traditional roof, however at present these roofs are given tax incentives due to their ecological benefits. That is why you need to consider such a roof for your home. If you live in an area that experiences high temperatures during most of the months of the year, you should definitely opt for a cool roof instead of a traditional roof. On the other hand, if you plan to save at least 70% of your air conditioner costs and want a cleaner and healthier environment, you should opt for such a roof.
Need A Cool Roof Quote?  Give TRI Roofing a Call Today
Interested in a cool roof?  How about installation of attic gables or roofing vents installed?  Roofing TRI does it all!  As a full service roofing operation we offer much more than just roofing installations.  Our customer oriented service professionals would be happy to talk to you about your specific needs.
We're happy to give out free advice too! Call us today at (919) 296-0017.