Tile as a form of roofing goes back a long time in human history.  Made directly from the clay and earth in the ground and baked to form tile, roofing tiles trace back it's roots some 10,000 years or more to dwellings in Asia and the Middle East.  This fire resistant material is a remarkably durable and can well outlast it's occupants in dryer climates.
Nowadays tile roofs continue to be a popular option for residential properties, but rather than the simple red terracotta or baked-clay options, there are so many more possibilities available for customers to choose from.  Many of the original benefits of tile have been accentuated with material improvements and manufacturing advances.
So today we wanted to take a look at many of the popular options available to the public today.  While the list below is not exhaustive, it's a good overall representation of what we've seen customers ordering the last 10 years.
Ceramic roof tiles
This is among types of tile roofs in use today. It is baked earth' that is mostly made of clay and the end product is usually porous. A refined type of clay is made into the desired shape, dried, and then placed into a kiln to be fired up for a permanent shape.
Advantages
It is quick and easy to make
They can be molded into many different shapes as desired.
They are light hence less weight on the house structure
Disadvantages
Prone to cracking during the drying process
Perfect in small sizes as huge ones are hard to manage.
Concrete tile roofing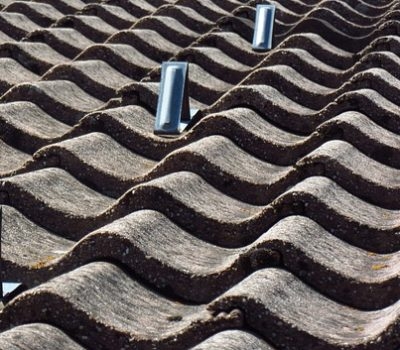 This is made of sand, water and cement. This is an awesome type of tile roofs that come in many designs, texture and colors. They are made of concrete and are usually interlocking with each other to make a beautiful pattern on the roof.
Advantages
They wear slowly hence last a very long time
More resistant to damage from hailstorms
Disadvantages
They are said to be costly than the other types of tile roofs.
They are quite heavy on the house structure hence you need stronger supports.
They are prone to moisture penetration.
Bituminous tile roofing
This is a roofing tile made up of asphalt which is a highly viscous and waterproof substance. There is a roofing felt placed under the bituminous roofing to act as an underlayment between the roof and the house structure.
Advantages
Such a roof with modified bitumen containing sand and limestone usually make the roof stronger and tear-resistant.
Disadvantages
The underlay usually increase the temperature of the roof hence the temperature inside the house too.
Lifespan decreases with continuous exposure to the sun, and the bitumen fumes can cause respiratory issues.
Polymer sand roofing tiles
Thanks to newer manufacturing process technology, tiles made of a polymer / sand composition are now a viable option for homeowners. Production involves pressing method of complex composition by eating of the components which are sand 70%, polymer 29% and coloring material having the rest 1%.
Advantages
Polymer sand tiles are durable, water resistant, low-heat conductors
They are lightweight hence require little support in installation
Fire-resistant hence less risk of fire damage to your roofing system
Disadvantages
Its production is quite complex and expensive
PVC Plastic
This is a type of roof tiles made of synthetic plastic material called PVC which is inherently one of the stronger and more durable plastics available today.  Used in thousands of applications, PVC can be molded into different shapes depending on your taste so long as it will be practical in its working.
Advantages
They are said to be eco-friendly as material used are recycled hence less damage to the environment
They are lightweight hence less support required to hold them up
They last for longer periods
Disadvantages
They may warp over time due to too much exposure to the sun with time
Composite Tiles
They offer the look of traditional roofs like the concrete and clay ones but now without the heavy materials, but usually made of fiber glass material.
Advantages
Typically made of recycled material, it's considered as eco-friendly
Little or no maintenance for life roofing
Composite tiles are fire-resistant
Insect resistant
Disadvantages
More expensive than alternative tile roofs as the manufacturing process is complex
Slate Tiles
This is a roofing solution made of natural stones that are curved and designed for the roofs. They have naturally-formed layers and textures hence very beautiful on the roofs
Advantages
They are versatile and durable
They come in many colors and textures hence a wide variety to choose from
Disadvantages
Installation AND Material cost is prohibitive for many homeowners
While slate tile can last for 100 years or more if properly maintained, finding a replacement tile of the same color can be difficult
Metal Tiles
They usually appear like the ceramic roofing material yet they are made of lightweight metal material. They interlock and give great designs on the roofs of houses.
Advantages
They are lightweight hence less support needed to hold it at the top
They withstand temperature fluctuations
They are less costly to install than other roofing types
Disadvantages
They may dent when hit by hailstorms hence destroy their beautiful looks.
Choose a roofing solution that suits your pocket and attractive to your eyes, and also practical in your area.
Thanks for reading our article on some basic tile roof options available for residential applications.  As you can see there's plenty to choose from with plenty of pluses and minuses to consider.
If you're looking at tile roofs – or ANY roof for that matter – consider giving Roofing TRI a try! We service the Durham / Raleigh / Chapel Triangle and would be happy to talk to you about your specific needs. We're happy to give out free advice too! Call us today at (919) 296-0017.